This past winter, in between snowstorms in the Northeast, I managed to sneak in a visit with Andre Cantelmo of Heron Pond Farm and Josh Jennings of Meadow's Mirth Farm.  They were in the process of putting together a producer cooperative, along with another farm, Kate Donald of Stout Oak Farm and were looking for a streamlined way for their customers (mostly restaurants) to place orders via mobile device.  They had been delivering individually to restaurants and knew how much chefs relied on their mobile phone to communicate with them.  Their goal was to streamline the order management process for their cooperative while making it convenient for their customers to order.
Fast forward about 7 months and their cooperative is up and running and serving dozens of restaurants in the Seacoast region.  New Hampshire Public Radio accompanied them on deliveries to several customers a few weeks ago and interviewed several chefs, including Chef Ryan LeBossiere of  Flatbread Company in Portsmouth, NH.  Ryan perfectly summed up why LFM provides custom ecommerce mobile apps for our customers:
"I can do this order while I'm walking down the stairs to get chicken from the freezer. The app makes sourcing locally as easy as buying from a large-scale distributor."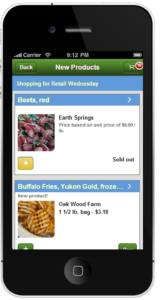 Several years ago when we began thinking about a mobile app, the primary target users were consumers.  But as we started talking to our customers, we heard story after story of chefs sending them texts to place or update their orders.  More than a year after we launched our first mobile app, it is clear that many chefs, like Ryan, appreciate the convenience of ordering from their mobile phone or tablet. The app helps LFM customers connect with chefs seeking locally-sourced food without the hassle of "juggling phone and email orders."  Some food hubs that serve restaurants, like Three River and Penn's Corner Farm Alliance, receive 30-40% of their orders via mobile app.
LFM currently has published 25 customized and branded mobile apps to the Google Play Store and Apple App Store.  The apps integrate seamlessly with the rest of LFM's food hub management technology  including planning, order, and distribution management.