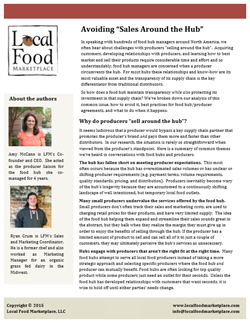 As the season winds down, are you reviewing how this year has gone for your hub and where improvements can be made? Did you experience trouble this season with a producer circumventing your hub and making sales around it? We hear on almost a daily basis the struggle that hubs face in maintaining a working relationship with their producers and avoiding the dreaded, "Sale around the hub".
Our marketing team of Amy McCann and Ryan Crum have researched, analyzed, and written this report using input from the many hubs we work with across North America as well as their personal experience. We look at why producers may sell around the hub, what food hubs can do to avoid it, and key aspects of a producer agreement.
For more information on how LFM can help your hub make the most of your sales, and grow them, contact us!