We are very excited for spring and the seemingly endless possibilities of the upcoming growing season. Spring fever arrived in full force this weekend when I discovered some asparagus spears peaking through our garden soil. I can't wait for fresh strawberries, rhubarb, peas, and asparagus.
We've had our heads down this winter, developing new features and enhancing some existing ones. We're happy to report our latest release, Version 2.3, will be live on all customer sites within the next week.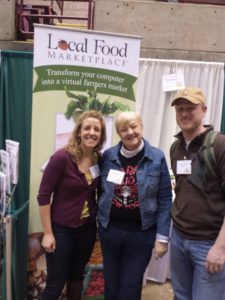 While our development team has been working on both the web and mobile app, we've connected with many of you at conferences (at right is Laura, our Customer Support Analyst at MOSES with Cathy from Prairie Roots Co-op and Jason from Iowa Valley Co-op).  We also presented on how mobile technology is impacting local food at the NOFA – Mass Winter Conference and on opportunities for food hubs at the WI Local Food Network conference. If you'll be at the NGFN conference in Raleigh next week, be sure to say hello and attend our workshop on Challenges and Opportunities for Multichannel Food Hub Sales.
Read on to hear more about our latest release, preliminary mobile app results, what we're up to next, and Purple Porch Co-op's recent retail store opening. Lastly, you'll find a resources section where we've pulled together some new information for food hubs.
New release – Route Manager, custom price lists, and more!
Our latest release contains a bunch of new features for streamlining food hub sales to grocers and retailers, restaurants, and institutions. It includes
custom product lists for providing filtered product lists (e.g. just produce to the producer buyer or just certified organic products to a restaurant that only buys certified organic), delivery route management, and VIN/UPC integration. Early feedback from customers has been really positive!
Preliminary mobile app results
We've published more than a dozen mobile apps with about 10 more coming soon. Anne, our Sales and Marketing Coordinator, analyzed how the mobile app is impacting sales for a handful of our markets that have been using the app for about 6 months. Here are the highlights of what we've learned so far.
  Orders placed via mobile for consumers are, on average, 28% higher than orders placed via web. All markets evaluated have higher average consumer order size for mobile orders. We will continue to monitor this statistic as other markets implement the mobile app. We suspect that order reminders sent via push messages are prompting customers to add more items to their order.
Once a customer begins ordering via mobile app, 70% continue to order via mobile app almost exclusively, suggesting they prefer the mobile app experience.
Overall monthly sales have become more stable (less fluctuation month to month) since implementing the mobile app. This is consistent for all markets that have implemented the mobile app.
We'll continue to review trends and analyze the impacts the mobile app is having on markets. Look for an upcoming blog post (yes, we're launching a blog!) for more details on our analysis to date.
What We're Up to Next
We are just about ready to launch a new website with new content and information. It will include a blog, where we will have posts on new features, marketing ideas, important issues our industry faces, customer highlights, and LFM company information. Please tell us what you want to hear about!
Next steps
If you subscribe to the NGFN food hub listserv (instructions below on how to subscribe) you may have read that we are beta testing a new feature for supply and demand forecasting. We will be focusing this spring and summer on making this applicable to our diverse customer base. Thank you to everyone that participated in online and phone surveys about your current supply and demand forecasting practices and needs. While we sensed there was a need for more formal systems, we were blown away by the response from the food hub community.
Purple Porch Co-op launches a retail store
PPC logo We have been excitedly following Purple Porch Co-op since they began using LFM in 2010, just a year after they launched their campaign to open a retail co-op store in South Bend, IN. They opened our eyes to the synergies of retail co-ops and online markets and we now work with nearly a dozen markets with retail operations or retail co-ops in the formation stage.
Photo credit: Purple Porch Co-op, 2014
About a month ago, they opened their store to the public and we've been drooling (via Facebook) over the amazing prepared foods coming out of their cafe. Pictured above is their Wednesday night local food night where customers pickup their weekly local food orders from producers. They currently have about 400 member owners and have used many creative strategies to generate capital to open their store. We'll be featuring a blog post on Purple Porch shortly, so stay tuned!
Resources for food hubs and producers
NGFN food hub conference & listserv
Next week is the NGFN food hub conference in Raleigh, NC. NGFN offers a listserve for food hubs to ask questions and share ideas. You can subscribe here.
Funding opportunities
In addition to providing a community of practice for food hubs, NGFN is also offering Food Hub Development Grants, due March 30, 2014. Read more about the program here and listen to a recorded webinar to learn more.
Thank you for all that you do for our local food systems!
Cheers!
Amy McCann, CEO
Local Food Marketplace