While specifying the requirements of our newly released Production Planning module, we talked to many food hubs that aren't ready to plan all of their products, but want to implement best practices to position themselves for more rigorous planning in the future.  Our research led us to Mary Oldham, Regional Coordinator for Value Chain Cluster Initiative (VC2), a program of the that provides hands on business support to strengthen local farm and food businesses in West Virginia.
We interviewed Mary about common planning challenges and best practices for newly formed food hubs or those working with small or inexperienced producers.   Below is Part 1 summarizing what should be in place before planning and ways hubs can help less experienced producers transition to planning production.  Part 2 covering common problems and lessons learned will be published in the coming weeks.
Mary will also be joining us for our January 22 webinar, "Getting Started with Production Planning" where she will present on best practices and be available for questions.  Register here, space is limited!  If you are interested in a detailed demonstration of the module, sign up for one of our weekly webinars or contact us to arrange an individual web meeting!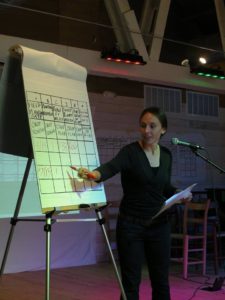 About Mary Oldham
Mary has served as a Regional Coordinator for VC2 since 2013.  Through her role with VC2, Mary co-authored Production Planning for Aggregators with Savanna Lyons, and provides training and support to start-up and emerging food hubs and their producers.
Mary has a Masters Degree in Agricultural and Resource Economics from West Virginia University. She also runs a CSA farm with her husband.  Prior to her role at VC2, Mary worked with small agricultural cooperatives and agricultural development projects in Honduras as a Peace Corps volunteer, through USAID, and various non-profits. 
Getting Ready to Plan

For new and emerging hubs, here's a quick list of what should be in place before production planning.
Distribution and pricing model
Before formulating a viable plan, a food hub must determine its distribution model and cost structure.  Most food hubs conduct a pilot season to test their assumptions and ensure the model can scale.  Hubs in the pilot season should limit their production planning to a couple key producers and customers that are aware the hub is in pilot stage.  After the pilot season, the hub can make adjustments to the model to achieve greater producer and customer buy-in.  This will also help the hub confidently expand their production planning efforts to a wider group of customers and producers.
Manager/coordinator that has the trust of customers and producers
This role is perhaps the most critical for a hub's ultimate success, particularly for hubs that are working with larger buyers.  Inevitably, actual sales will not go as planned, but communication and transparency between the hub, producers, and customers will maintain relationships and provide opportunities for future improvement.  To successfully execute a production plan, the coordinator/manager must be in regular contact with customers and producers, updating them on anticipated changes to the plan, and also putting back-up plans in place when necessary.
Detailed buyer demand data
Many hubs are formed based on feasibility studies or analysis that combines macro data and buyer surveys.  This type of demand estimate should not be used to plan production, however.  Hubs should base their plan on the hub's actual sales to customers or through detailed conversations with the customers about their needs.  A hub must be careful to not take a customer's anticipated demand at face value particularly if the hub has had limited experience selling to the customer.  Customers often mistakenly overestimate demand because of their enthusiasm or lack of knowledge of their true volume needs.  Overestimating demand, particularly for specialty products that are difficult to find alternative buyers for, can create producer distrust.  Hubs can avoid overestimating demand by asking customers to provide volume and prices for actual purchases of the same product in the previous 12 months and assumptions behind their demand forecast.  The hub can then assess the relative risk in planning production for that customer.
Producer buy-in
Specifically, the hub should have a couple larger, more experienced producers that are bought in and see the big picture.  These producers help bring other producers on board through their example.  They often lend their production experience to the group and shorten the learning curve for other producers.  In addition, they help mitigate risk in working with less experienced producers because the hub can often fill in supply from them when the less experienced producers can't meet their expected supply.
Good individual farm planning and record keeping practices
The food hub's production plan is highly dependent on each farm following through on its commitments.  Before working with a producer to plan production, the hub should evaluate the farm's planning and record keeping practices.  How do they plan and schedule succession plantings?  How much of each product have they grown in each year?  What varieties?  How closely have their plans matched actual production?
Producer Training & Assistance

The mission of some food hubs, such as Alba Organics, is to help farms gain experience and training so that they will be successful when fully operating on their own.  Even if a hub isn't acting as a farm incubator, the hub can assemble resources that will help producers provide a more predictable supply.
Farm planning and record keeping
Many small farms are transitioning market gardeners or perhaps run small CSAs where their supply is highly variable and unpredictable. Before these producers begin planning, they should assess their needs and time constraints.  If the farmers are also working outside jobs, they may need to plant crops that don't require succession planting, such as winter squash.  Before creating a plan, producers will need information on yields and days to maturity for the crops they plan to grow. Popular resources include Johnny's Seed Catalog and Johnny's website.
When creating a plan for the first time, many producers benefit from working with a worksheet by hand before using technology to automate calculations.  Technologies for automating a producer's production plan include a spreadsheet based system by Brookfield Farms, developed and supported by the farmers, and AgSquared, a cloud based planning and record keeping technology.
Post harvest handling & grading
Producers accustomed to growing on a small scale for consumers are often unaware of good post harvest handling practices, cleanliness, grading, and standard pack sizes.  Many food hubs offer Wholesale Success Training to their producers so they are better prepared to meet the hubs needs in quality, safety, and consistency.  Depending on the type of customers being served, food hubs may also consider requiring GAP training, which is offered by USDA.  A number of hubs are currently piloting Group GAP certification.
Resources for troubleshooting problems
Producers that begin to grow specific products on a larger scale than they ever have will often experience problems with disease, pests, quality, or growth.  Local extension agents and more experienced producers are a great resource for helping producers overcome challenges.
For more expert planning advice please check out our blog posts (Part 1 and Part 2) featuring expert Johnice Cross, former production coordinator for a producer co-op.  We hosted a webinar featuring Johnice on production planning on November 13.  If you missed it, you can find a link to the recording on our Resources page.