Every local food system is different and requires a unique approach.
LFM offers the flexibility to adapt to the needs of your customers and your local food system. Below is a summary of different types of businesses we serve and some of the features our customers rave about.
We serve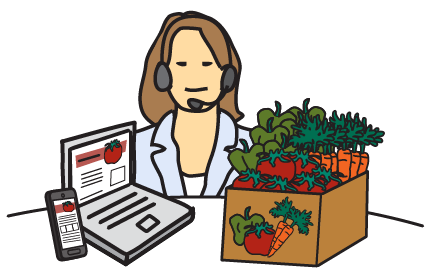 Food Hubs

Co-ops

Buying Clubs
Online Markets

Local Food Distributors

Individual Producers

Sales solutions
Multi-channel sales support
Most food hubs sell to multiple kinds of customers that each have their own practices that a food hub must follow if they want to serve them. LFM offers automated VIN setup, UPC integration, and credit memos that make it easy to sell to grocery and retail stores, ordering via mobile app for chefs and consumers, and multiple invoice formats to manage each sale.
Robust and flexible sales tools
Whether you take orders online, on the phone, or via text message, LFM can help you manage your sales process. Streamline and increase online ordering with customer reviews, customizable product list layout, and suggested items based on the customer's order. Salespeople can easily enter orders – searching by product name or product code, and then send an order confirmation.
Mobile app
Just like you, your customers are on the go. Chefs and consumers alike organize their lives and their businesses on their mobile devices. LFM offers a custom, branded mobile app that allows you to communicate notifications to your most loyal customers (think order reminders, weekly specials, or notification of the season's first strawberries) and allows them to place their order on your branded mobile app.
Custom price lists
Make it easy for your customers to buy from you by showing them only the products that they want instead a massive list of everything they could buy. Maybe you're working with a grocery store with multiple buyers that each want their own product list, a restaurant that only prepares vegetarian dishes, or a co-op that only wants to buy certified organic. LFM's dynamic (and savable) custom price lists help you tailor each customer's buying experience with ease.
Flexible payment options
LFM supports multiple payment collection options including credit card integration, invoices, checks, cash, EBT, and even prepayment.
Membership and co-op management
Automate the collection of membership dues, track membership history, and offer multiple membership (and non-member) levels automatically tied to different customer price levels.

Planning and Reporting
Unrivaled reporting and operational insight
With a click, know your top selling products and producers, your most profitable delivery route or pickup location, A/R, week to week sales comparisons, and more. If LFM's extensive collection of reports doesn't have what you're looking for, export your order and sales data to produce customized reports.
Supply and demand management (available now!)

Work with producers and customers to plan your supply and demand for key products and then follow it through the season making adjustments as needed. LFM's planning feature will provide visibility on what products need more supply and when.

Distribution Solutions
Route & distribution management
Whether you have one truck or multiple trucks to manage, your drivers need clear instructions and paperwork to complete their deliveries. Setup your truck routes, order your deliveries for optimum efficiency, and print your customer packing slips and pick lists to match.
Multiple distribution days per order period
If you're serving restaurants, institutions, or grocery stores, chances are they want deliveries more than once a week. Add in the complication of selling to both consumers and businesses and you quickly need a way to easily create accurate product lists for each of your customers for each delivery/distribution day. LFM allows you to easily manage product availability by customer type and delivery day. Perhaps milk from Springhill Dairy is only available for Thursday delivery and consumers can buy by the gallon and institutions must buy it by the 5 gallon container. You can manage all of this easily from a single database in LFM.

Intuitive Interface and Design
Customized website and content management system
Provide a seamless, integrated experience for your customers with a single site for managing your website and ordering system that matches your unique brand and image. Take a look at our showcase to see the wide variety of designs that we support.
Elegant, powerful producer interface
Chances are your producers sell to you and many other businesses and can't afford to spend a lot of time entering (and re-entering) data. LFM offers automated, slick tools for updating product availability, producer communication (automatic notification when items sell out & automated pick tickets), printing labels, and sales reports. Get your producers up to speed quickly with LFM's comprehensive producer guide and training videos.
Dynamic, smart product database
It's not the most flashy of features, but a flexible, robust product database is essential for maintaining good records, strong reporting, and clean product lists. Create a single product with multiple units (think Beef roasts that can be sold in 2-4 lb and 4-6 lb sizes and then updated for exact weight upon picking from the freezer). Allow multiple producers to sell the same base product in different units so you can summarize your total sales by product, yet have the flexibility for producers to sell their products in units that make sense. Truly, this is one of the basic design elements that set LFM apart from other solutions.