Laura Theis joined the LFM team in the fall of 2013 after working for many years with Idaho's Bounty in Ketchum, Idaho. Laura works tirelessly with all of our customers, as well as our development and implementation team, to help assure our technology works in a smooth and efficient manner. If you are a customer of ours, you have spent plenty of time with Laura in one way or another. Laura is next in our series of team profiles. We couldn't do what we do without Laura on board.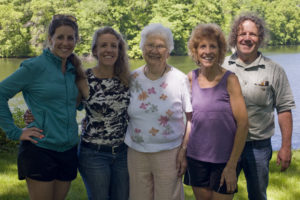 I grew up in Hillsboro, WI a small farming community where my parents both worked at nearby schools. I attended the University of Wisconsin at Madison, receiving a Bachelor's degree in Landscape Architecture. While there, the ethnic restaurant scene, close friends and a college boyfriend, exposed me to how important food, agriculture and proper nutrition are to all of us. Through courses in Landscape Architecture, I became aware of how land, water, community planning, food and health are all so closely intertwined. Botany of Desire by Michael Pollan was a very influential book for me in forming my approach to local food.  Coincidentally, I later got to closely work with the potato farmer Mike Heath in the book.
After leading bike tours in the Mountain West with Trek Travel for several years after college, I started looking for a new opportunity. AmeriCorps seemed like a great opportunity to try out a different locale and learn some new skills.  After being offered a position at the Environmental Resource Center (ERC) in Ketchum, Idaho, I moved cross country to that mountain town, a place I had never heard about or visited. Eek!
One of the requirements for the AmeriCorps program I worked under was called CAP, a Community Action Project. The CAP project allowed AmeriCorps hours for me to work on a project that I was interested in, outside of the ERC. I became involved with the group, now known as Idaho's Bounty, to help them determine if the community was interested in local food. I worked with a small group of interested locals, who collaborated to meet with producers, consumers, government agencies and other similar formed groups out of state. We eventually applied for and received a FMPP USDA development grant. Idaho's Bounty Coop was born!
Over the next 7 years, I helped organize, open and grow Idaho's Bounty from a once a month retail only distribution, to the multiple weekly wholesale delivery operation across Southern Idaho that it is today (they still reach those retail customers once a week). One of my first roles was implementing an open source technology to meet our needs. We eventually outgrew its capabilities and I worked with an outside firm to facilitate a widespread search for a technology platform that would satisfy current and future needs.  We discovered LFM in the search and determined that their technology and company offered IBC the best long-term solution.     
 I later lead the implementation of LFM at IBC in 2012, including transitioning and training over 70 producers, multiple team members, and customers giving me a comprehensive understanding of the software. In early 2013, I took a step back in my role as Operations Manager at IBC and later in 2013, when Amy reached out about an opening on the LFM support team; I excitedly joined. With my heart and 'family' firmly in Southern Idaho, I work remotely, traveling to LFM headquarters in Eugene, Oregon a few times a year to charrette with the rest of the team.
Most of my "downtime" is spent outdoors biking, skiing, or running with my boyfriend, Nick, and other friends.  When we're not summiting a peak or riding trails on our bikes, we love to garden and spend time with friends and family. I also work part-time with an architectural firm in Ketchum, am a board member of my housing association and volunteer with the local bike group to maintain trails. You might even catch me knitting or reading to wind down at the end of the day.